Flourless Bourbon Brownies with Makers Mark
Flourless Bourbon Brownies with Makers Mark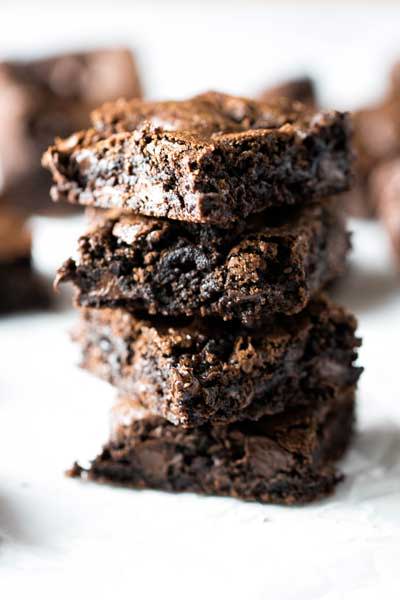 INGREDIENTS:
113 grams of butter
60ml of Makers Mark
25 grams of coco powder
300 grams of chocolate chips
4 large eggs
50grams of icing sugar
Preheat the oven to 160c Butter an 8-inch square baking pan, line with parchment paper or foil and butter the parchment.

In a large saucepan, heat the butter and bourbon over medium heat, stirring occasionally, until the butter melts. Stir in the cocoa powder until smooth. Remove from the heat and immediately add the 200gr of chocolate chips. Stir until smooth. Let cool slightly.

Add the eggs, one at a time, beating well after each addition. Stir in the icing sugar until well-combined. Transfer to the prepared pan and spread in an even layer. Sprinkle the remaining chocolate chips on top.

Bake until the top is glossy and a toothpick inserted 1 inch from the edge comes out clean, about 20 minutes. Cool completely in the pan on a wire rack.

Lift out of the pan using the parchment paper. Cut into 12 bars
Opinions on what makes a perfect brownie are as plentiful as the different recipes for them. Flour plays a key role in brownie texture. The more there is, the fluffier and cakier the brownie. More egg and less flour make for a fudgier brownie.
It's hard to resist warm brownies, but cutting them too soon can be a little messy. If presentation matters, let them come to room temperature first and then put them in the freezer for a few minutes. This and a sharp knife will give you precise cuts.
Begin checking for doneness well before the directed cook time. Keep in mind that brownies continue to cook after taking them out of the oven. If you're looking for a moister texture, a few small speckles of crumbs on your toothpick may indicate doneness.