CHOCOLATE GUINNESS CAKE WITH ORANGE BLOSSOM FROSTING
CHOCOLATE GUINNESS CAKE WITH ORANGE BLOSSOM FROSTING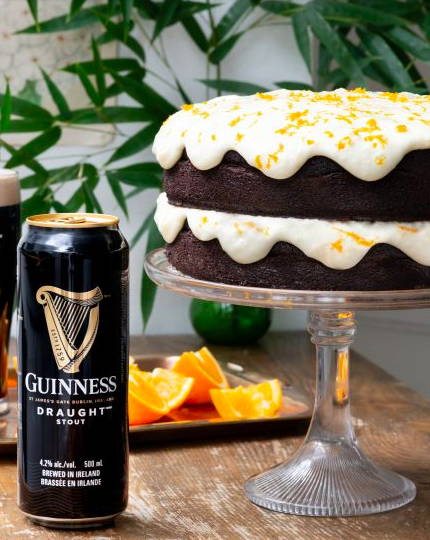 INGREDIENTS:
13ozs unsalted butter
1½ cups Guinness
1½ cups cocoa powder
3 eggs
3 cups superfine sugar
3 tsps vanilla essence
1½ cups buttermilk
3 cups all-purpose flour
3 tsps bicarbonate of soda
2 tsps baking powder
For the icing
5ozs unsalted butter, softened
2 cups powdered sugar
2 tsps orange blossom water
2 cups cream cheese
1 orange
METHOD:
Preheat the oven to 325°F/gas mark 3. Line the base of a two x 30cm round spring form tin with baking parchment.
To make the cake, heat the butter in a large saucepan over a medium heat until melted. Stir in the Guinness, then remove from the heat and stir in the cocoa powder.
In a large mixing bowl, whisk together the eggs, sugar, vanilla essence and buttermilk and then slowly add the Guinness and butter mixture, whisking all the time.
In a separate large bowl, sieve together the flour, bicarbonate of soda and baking powder. Using an electric whisk, slowly pour the wet mixture into the dry ingredients and keep whisking until it is all well combined.  
Divide the mixture between the two cake tins and bake for approximately 45 minutes. Test to make sure the cake is cooked by inserted a dry skewer into the middle of the cake – if it comes out clean, the cake is cooked. Set aside to cool a little, and then remove from the tin and allow to cool completely on a wire rack.
Meanwhile, make the frosting by blending all the ingredients together using an electric hand whisk until light and fluffy.
Place one cooled cake on a cake stand or plate and generously spread half the frosting on top. Then place the second cake on top and spread the remaining frosting on top. Finish the cake with the zest of an orange.